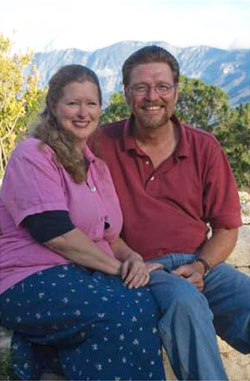 Although it might be difficult to believe, particularly considering all of the negative news that comes out of Mexico (regarding drug cartels, violence, immigration challenges, etc.), God is working mightily among His people there. 
One ministry through which He has been doing amazing work is Vida Nueva Ministries, founded by Mike and Pam Richardson.   
I conducted an interview with Mike Richardson and was blessed to learn of the work that God is enabling his ministry to accomplish in the midst of numerous challenges — from financial issues to health struggles. (Read more about this in this Vida Nueva Ministries Testimony Letter from 2005. Also, please see an update to the letter at the end of this interview.) 
Their ministry has grown from working with a local Christian school teaching English in Monterrey in 1993, to now having an outreach that involves:
Church planting, pastoring and evangelism.
Sponsoring work teams. 
Building Projects.
Publishing a home school magazine in Spanish. (It is sent out free of charge throughout the world.)
Operating a printing ministry.
Publishing books in Spanish.
Translating and publishing of Christian home education material into Spanish.
Translating and publishing of ministry cassettes into Spanish. (Nearly 60,000 tapes have been sent out free of charge throughout the world.)
Home Education Seminars.
Teaching in special meetings on the family.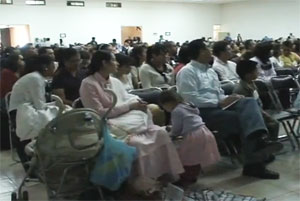 I pray that as you read this interview, your mind and heart will be opened to the truth of the challenges that are faced by God's people in Mexico, in spite of living next door to a nation as wealthy as this one. I also hope that you will be moved to support the Richardsons' ministry in Mexico, as well as El Hogar Educador (The Home Educator), a homeschool ministry also founded by Mike Richardson, in prayer and/or financially. 
---
What sort of educational system currently exists in Mexico? In other words, when children are not homeschooled in Mexico, what sort of education do they typically receive?
There is a poor public school system in Mexico with mandatory attendance through the sixth grade. However, there are many children, especially in the cities, who do not attend even the earlier school grades. While there are some excellent teachers, there are also many poorly trained teachers who do a very inadequate job. 
In Mexico, finishing ninth grade has the same image in most people's mind as finishing the 12th grade would in the USA. Some go to high school, and then college. Others go to a trade school. Most go to work. 
What would you say the primary motivations are for parents in Mexico who decide to homeschool their children? (In other words, are they largely motivated for faith-based reasons, or is it largely about academics?) 
We currently have over 5000 families on our mailing list. They are located in every state in Mexico as well as 32 other countries. With all those families, I do not know a single family who homeschool for any reason other than they felt like God has called them to the task.   
What are the unique obstacles homeschoolers in Mexico face that might not be as familiar to families in the United States?  
While many of the struggles that homeschool families face are very similar to those that we faced in the USA in the 1980s, the biggest struggle that is different is the financial struggle. 
While I am not saying that many do not struggle financially in the USA, it is different. 
In Mexico we have a very large poor population. Many families live on less than $70.00 USD a week and most live on less than $120.00 USD a week. 
It is partly because of this that we made the decision from the very beginning of our ministry to send our magazine free of charge to all who request it. We also do not charge for any of our conferences.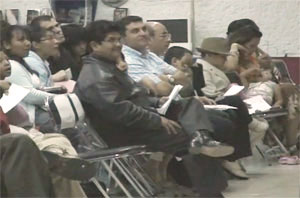 Tell me a little bit about the homeschool conferences in Mexico. How would you say they are similar and/or different than the homeschool conferences we have in the States? 
Our conferences are very similar to the conferences in the USA expect that we do not charge for them. The biggest differences would be:
The amount of men who attend. It is rare for a wife to attend without the husband attending.
We allow and welcome children to attend all session with their parents.
We do not provide anything special for the children. We think that spending two entire days with your mother and father is special enough!
All of our breakout sessions are divided between men and women.
We do not have women teach in a setting where they are teaching men—only women.
We close the book area during all the teaching sessions.
I (the founder) sit on the front row with my boys during all the sessions.  (My wife takes care of the baby and girls in another area.) I deal with conference problems and other issues during the breaks and books times.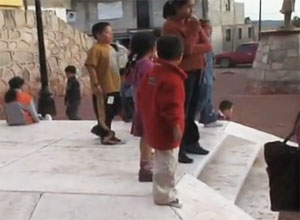 How about the homeschooling movement in Mexico — is it growing? 
Yes. We started with 76 families. We now have 5000 in all states in Mexico and 32 other countries.  
I noticed on your website that Greg Harris, father of the Harris brothers so well known amongst Christian homeschooling families in the U.S. is scheduled to speak at next year's conference in Saltillo. Are the Harris family's various books known amongst homeschooling families in Mexico? 
Greg is a good friend to me personally, as well as to the homeschool movement in Mexico. While we have not translated any of his families books, a few of Josh's books are available in Spanish.  
I was enthusiastic to see mentioned your heartfelt desire to build a retreat for Christian families in Mexico. In the U.S. Christian homeschooling circles, there are great strides being made in encouraging family discipleship and building up Christian families — with God's grace reversing some of the damage that secular culture has done to our families over the last few generations. Are you seeing a similar trend in Mexico?
God is calling young people all over the world, including Mexico, to live a pure life and save themselves for marriage.
God is calling many men to become the spiritual head of their home. I see this happen much more in Mexico than I do in the USA.
I truly believe that God is using the very bad violence in Mexico to call many to Himself and to purify His Church. The Church is growing and is faithful during this adversity.  
Also, are there any updates on the building projects mentioned in your testimony letter?
I am glad you asked about this. This project has been on my heart for years—a family camp that is available free of charge for fathers to bring their children, spend time with them and build deep and lasting relationships with them.
I have a contract to purchase 12 acres in front of our home. Everything that we do as a family and a ministry is done debt free, so the only thing that is lacking to finalize the purchase is a few dollars.
We are asking God to allow this to be completed by the end of this month. I also have an agreement (but not a contract) to purchase 117 acres behind us. Once we have the funding we will write a contract and make the purchase. The owner of the property beside us (137 acres) has also indicated that he wants to sell at a reasonable price.
So we are marching forward on these as the Lord allows. I did feel so confident that it is the Lord's will and timing that I announce at the last conference that we would most likely be open by the end of the year.  
I've heard about different Christian ministries that seem to be growing in Mexico. What can you say about the spread of the Gospel and the Christian faith in Mexico? Have you seen any major changes over the last couple of decades?
I have seen some missionaries struggling and even leaving the field. The reasons vary greatly. I have seen others who seem to be flourishing and growing. I am not sure that I can tell you why [there is] the difference, other than God has chosen to bless.  
What might people in the United States and abroad do to support the Christian homeschooling movement in Mexico?
Prayer is the most important thing.
If someone is interested in the homeschool work in Mexico, then they might like to receive our family's newsletter and e-mail updates. They will keep them up to date and help them know how to pray. They can send their mailing address and e-mail address to vnm@hughes.net.
We are certainly willing to host families who would like to come for a visit. There is never a lack of work to do so we can keep them busy too.
Financial support is always helpful too.  
• • •

The Richardsons have been homeschooling their ten children since 1986.
Above are their seven youngest children: Samuel, Isaac, Anna, Joshua,
Timothy, Benjamin, and Abigail. (Not pictured are Jeremy, Michael and Misty)
Addendum to the Testimony Letter: Mike was diagnosed with Multiple Sclerosis nearly a decade ago, but despite having experienced his health going downhill for nearly 15 years,  the Lord began relieving him of many of his symptoms in 2007. He reported, "All but two of my symptoms have completely disappeared and those two continue to improve. I am currently able to do anything that I need to do. My health is currently not an issue. I do not know how long this remission will last but I think God daily and will praise him whether it lasts a week, a month a year, or the rest of my life. He was a good God when I was sick. He is a good God now that I am better. And he will always be a good God—no matter what the future holds."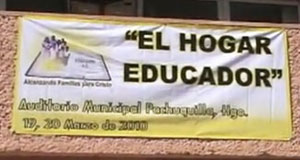 Click to visit the El Hogar Educador website.