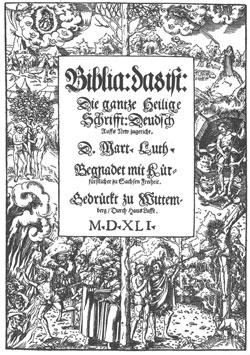 Several years ago I couldn't have told you that there were Five Solas of the Reformation, much less what they were. I'd certainly never heard of Reformation Day, or that it was even something that Christians could, or should, celebrate.
Thankfully, through our family's homeschooling journey, the Lord has been gracious in putting individuals in my life who have been able to teach me so much, enabling me to bring up my son with a far greater knowledge regarding theology and Biblical history than I had when I was growing up. I had never heard of anyone actually celebrating Martin Luther's igniting of the flame of the Reformation, but in recent years, we began celebrating it in our own family.
Part of celebrating the Reformation, of course, is knowing and remembering what the contributions of the Reformers, by God's Providential Hand, has meant, and continues to mean, for the Church.
It could be said that their various contributions over a span of several decades can be summed up in the Five Solas, which mark a return to the core tenets of the Christian faith that by the 16th century had become quite obscured, or corrupted altogether over many centuries by Roman authority and "church tradition."
So, what are the Five Solas, and why should Christians still care about them today?

The Five Solas are five core statements that emerged out of the Reformation that really get to the heart of the Biblical Christian faith.
Sola Scriptura – Scripture Alone
"All Scripture is God-breathed and is useful for teaching, rebuking, correcting and training in righteousness" (2 Timothy 3:16)
As Christians, we look to the Scripture as the authoritative Word of God, rather than looking to a combination of man, tradition and spiritual writings. We do not have to guess at our soul's condition. We can read the Word of God and have Biblical assurance that we are saved. Also, since the Bible began to be translated into the common languages of the people during the Reformation, we can now read the Scriptures for ourselves, rather than depending upon someone else to tell us what they say.
Solus Christus – Christ Alone
Jesus answered, "I am the way and the truth and the life. No one comes to the Father except through me." (John 14:6)
Solus Christus clarifies that Christ is the Lord and King of the Church and there is no other head of the Church, not on heaven or on earth. He is the sole mediator between God and man. There is no necessity, nor any Biblical precedent, that establishes prayer to anyone but God, or by any name but Jesus Christ. A Christian is in no need of a mediator when approaching the throne of God in prayer. The Christian can come boldly before the Heavenly Father because Christ already made the way.
Sola Gratia – Grace Alone and Sola Fide – Faith Alone
"For it is by grace you have been saved, through faith, and this is not your own doing, it is a gift of God, not of works, so that no one may boast." (Ephesians 2:8-9)
Sola Gratia and Sola Fide work together in declaring that the believer is saved only by grace through faith, and that faith, is a gift of God. The moment we believe any of our works justify us before God, we miss the point of Grace entirely.
Grace is Grace because it is free.
Before the foundations of the earth were laid, God predestined His chosen people to eternal life in Christ. He predestined the means by which these people would be saved.
The believer plays no part in justifying himself before God, for God, in love, chose the believer before he or she was ever born, and made a way for that believer to be reconciled to Himself by Christ's atoning work on the cross. True and saving faith that is delivered to the Christian as a gift of God (as noted in Eph 2:8) will be fruitful for the glorification of God and the upbuilding of His kingdom.  "For we are his workmanship, created in Christ Jesus for good works, which God prepared beforehand, that we should walk in them." (Eph 2:10) We were chosen and set apart by God for His good works that were prepared for us by Him before we were ever even born. The works, themselves, do not justify us. they are simply the outworking of God's Grace and His gift to us of saving faith.
Soli Deo Gloria – The Glory of God Alone
Plain and simple, every bit of glory goes to God, and to God alone.
We, as believers, were created by God to carry out the good works that He prepared for us beforehand (Eph 2:10). It is not because of anything within our natural capabilities that we accomplish any good at all. Therefore,  we can take no credit, nor seek glory or honor for ourselves, because any good thing we do is only by God's Grace, and He, alone, is due all of the praise.
Having grown up in a Protestant home, I always would have agreed with the above statements of the Five Solas, but until recent years, I would have taken for granted that these ideas were not authorized, nor promoted by the church authorities in 1517 when Luther began the Reformation. I give thanks to God for the amazing grace that He poured out on all of the great Reformers, and also those courageous Christians that preceded them, supported them, and later followed them, through which our Lord brought His Church back to Biblical Christianity.
I am thankful to be able to read the Bible in my own language, and that Christians — regardless of wealth, status, or position in the Church — around the world can enjoy that same privilege — one that did not exist prior to Reformation.
We have so much to celebrate on Reformation Day! And what an opportunity to give praise and glorify God for His grace, providence, mercy, faithfulness, and love.
Have a happy, blessed Reformation Day!